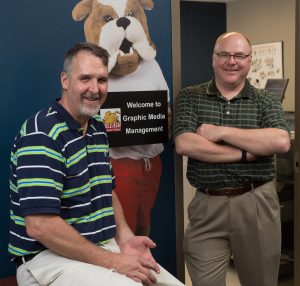 Meet the people behind the scenes!

Professor John Conati
Professor John Conati has been a faculty member in the Printing and Digital Imaging Management program since 1990. Conati earned three different degrees; AAS in Printing Technology from North Dakota State College of Science, BS in Industrial Studies from Moorhead State University, and a MS in Career and Occupational Education from Ferris State University.His areas of specialization are in digital prepress, workflow, color management, variable data, packaging and project management. Professor Conati is adept in digital imposition, RIP and MIS workflow, web-to-print, cross media marketing, digital printing, and multimedia. Prior to 1990, Professor Conati's graphic media experience consist of three years teaching high school vocational graphic communications, one year as an industrial trainer in a large calendar company, and over seven years of print production.

Professor Patrick Klarecki
Pat Klarecki has been a faculty member at Ferris State University for 20 years and has served in numerous administrative positions from Department Head to Assistant Vice President for Academic Affairs. Pat graduated from Ferris State's Printing Management program in 1983, he then completed a Masters Degree in Career and Occupational Education in 1995 and an MBA in Quality Process Improvement in 2006.Upon graduation in 1983 he joined Valassis Communications where he held a number of management positions including Prepress, Press Supervisor, Manager of Estimating and Customer Service Operations. Klarecki came to Ferris in 1992. He is a strong advocate for the Graphic Communication Industry.
Klarecki Serves on the boards of directors for the Graphic Art Education Research Foundation, the Accrediting Council for Collegiate Graphic Communications Inc. and the Print and Graphics Scholarship Trust Fund.
He is a frequent consultant to the printing industry in the areas of Marketing and Lean Process Improvement and is the Chief Technical Expert in Print Media Technology for the WorldSkills organization. Pat's passion is working with young adults to build successful careers in the Graphic Communications Industry.
Melinda Arnson
Melinda Arnson has been a faculty member at Ferris State University for 5 years. She teaches Substrates, Inks and Coating course along with Project Estimating & Cost Analysis. Melinda has over 20 years of experience in Printing and Packaging.